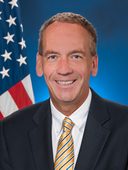 Chairman
John Gordner,
Senator
Welcome to the homepage for the Pennsylvania Capitol Preservation Committee. For the past 39 years, the Capitol Preservation Committee (CPC) has served the citizens of the Commonwealth by restoring and preserving the art, architecture and history of the Pennsylvania State Capitol and Capitol Complex. I am very proud to be elected as the committee's third chairman, following the tenure of former state representatives Joseph Pitts and Paul Clymer.

Our state Capitol is a one-of-a-kind structure, designed by Philadelphia architect Joseph Miller Huston and built from 1902-1906, it contains 640 rooms, priceless murals and stained glass, marble, 24 karat gold leafing, massive bronze chandeliers, carpets, draperies and ornate woodwork.

Throughout the course of the Committee's history, we have conducted well over one hundred individual restoration projects designed to preserve the original 1906 appearance of the Capitol for all visitors. Some of the most prominent projects that the CPC has undertaken are the restoration of the Main Rotunda and dome, the conservation of Pennsylvania's historic Civil War battle flags, and the removal and restoration of the statue Commonwealth from the Capitol dome.

Other projects include conservation of the Barnard statues at the Capitol's main entrance and conservation of Henry Chapman Mercer's Moravian Tiled Floor, which sustains yearly damage from the harmful effects of winter salt. The CPC also repairs and maintains over 200 historic Capitol clocks and several thousand pieces of custom-designed furniture, all designed by architect Joseph M. Huston. Additionally, the Committee is instrumental in conserving the artwork and ornate spaces of the North, Irvis, Ryan, Forum and Finance Buildings.

In large part due to the Preservation Committee's diligent restoration work, the Pennsylvania State Capitol is widely-recognized as one of the most beautiful state capitol buildings in the nation. It is listed on the National Register of Historic Places and was designated a National Historic Landmark in 2006, on the hundredth anniversary of its construction.

As chairman of the Capitol Preservation Committee, I invite you to learn all you can about your Capitol's rich history and cordially invite you to visit Pennsylvania's impressive "palace of art."