In addition to the ongoing preservation work that is conducted throughout the Capitol building, one of the most rewarding challenges for the Capitol Preservation Committee is locating lost items or facts that relate to the history of this magnificent State treasure.
Like most public buildings, the Capitol has seen countless changes over the many decades since its construction in 1906. As styles and tastes changed over the years prior to the formation of the Capitol Preservation Committee, original furnishings were often abandoned and/or replaced to match "modern" decor.
HISTORIC CORNER CABINET FOUND IN NORTH OFFICE BUILDING OF CAPITOL COMPLEX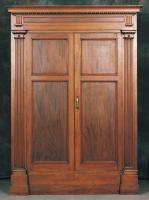 The majority of the original furnishings, which were custom designed by Capitol architect Joseph M. Huston, contained many features to match the architectural profiles of specific suites. For example, highly ornate chairs made from quarter-sawn oak with tooled leather seats and backs were exclusive to the Governor's Reception suite.
All other rooms were supplied with mahogany furniture. Items such as coat trees, matching sofas and chairs, and wardrobes with beveled glass doors were all custom-designed and meticulously crafted specifically for the Capitol building.
There are still many more Capitol treasures waiting to be found. You can help by sharing knowledge about other historic artifacts that may have originated from the Pennsylvania State Capitol by contacting the Committee.
The important task of preserving and maintaining the history of the State Capitol is one that benefits all Pennsylvanians and generations to come. Click on a year below to view some of the Committee's notable discoveries.