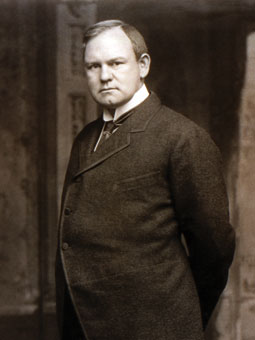 Architect Joseph M. Huston was a man who, from a very early age, was determined to make his mark in the world of architecture. Joseph Huston was born in 1866 in Philadelphia the fifth of six children. He was the son of Irish immigrants and a gifted young man of high standing in his church and community.
By 1880 he completed public school, which at the time was eighth grade. He went to work with a well-known Philadelphia business, John B. Ellison and Sons. At age seventeen, he joined the architectural firm of Furness and Sons for a period of five years. While with the firm he studied Greek, Latin, and mathematics with a tutor. His self-education progressed so rapidly that he gained admittance to Princeton University in September 1888. At Princeton, Huston was an honors student and a member of several artistic and literary societies.
WITHERSPOON BUILDING, 1901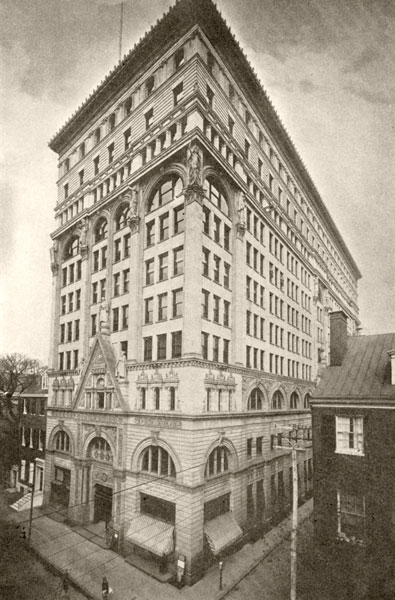 After graduating in 1892 Huston returned to the firm of Furness and Sons, during which time he worked on the design for the Pennsylvania Railroad's Broad Street Station in Philadelphia. Huston was also a member of several civic and professional organizations including the Presbyterian Social Union, the Union League, the T-Square Club, the Merion and Germantown Cricket Clubs, and the Princeton Club of Philadelphia, among others.
In 1895 Huston set up his own firm and spent the next two years working on the design of the Witherspoon Building at Juniper and Walnut Streets in Philadelphia. While at Furness and Sons, Huston had met a young architect named Stanford B. Lewis. Huston hired Lewis, a native of Charlottesville, Virginia, as his partner. In 1897 Huston moved his personal office into the newly completed Witherspoon Building. That same year he and Lewis entered the Pennsylvania Capitol Design Competition, and lost to Henry Ives Cobb.
1902 CAPITOL COMPETITION SKETCH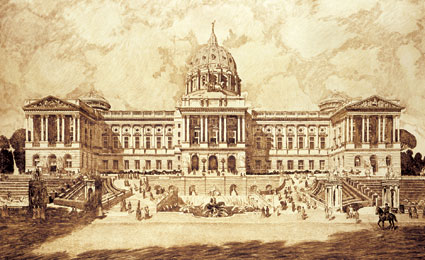 In 1898 Huston and his older brother Samuel departed on an around-the-world tour to see the great art and architecture of Europe. While in Rome, Samuel nearly died when his appendix ruptured. With his brother's recuperation taking weeks, Huston spent his time traveling the city with sketchbook in hand. He made drawings of the art and architecture, in particular St. Peter's Basilica, and wrote "one day I hope to build a building as grand…" in one of his notebooks. In 1901 Huston was given the chance to do just that by entering the new Capitol design competition. The European influences, which Huston remembered with extreme vividness, became incorporated into the new building's design.
Despite his youth and relative inexperience, the Capitol Building Commission chose Huston as the winner of the 1901 design competition for the new Pennsylvania Capitol. The new Capitol was to be, essentially, a completion of Henry Ives Cobb's brick structure, begun in 1897.
From the outset, it was the intention of Huston and the Commission to create a magnificent structure incorporated with a rich program of fine and decorative arts. Huston intended to make the Pennsylvania Capitol a monument to the new Renaissance — an example of architect, painter, and sculptor working together in harmony toward a single goal.
PRESIDENT ROOSEVELT ADDRESSING
DEDICATION DAY CROWD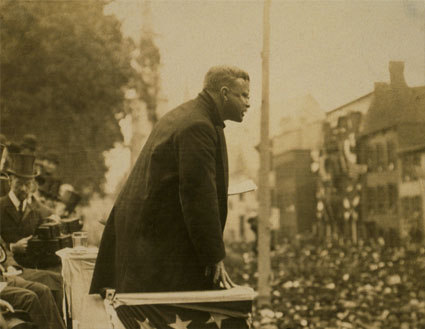 Huston's grand scheme was indeed an overwhelming success. On the day of the Pennsylvania Capitol's dedication, October 4, 1906, President Theodore Roosevelt exclaimed as he stepped inside the entrance, "This is the handsomest State Capitol I ever saw." Those sentiments are still expressed today and stand in tribute to the man who dared to dream.